---
The value of Information Maps in the Digital Economy
The value of Information Maps in the Digital Economy
Most of us will agree, that we are suffering from an information overload but on the other side (we might also agree) that information is today's most powerful the asset for business in the digital economy.
So, the question is how to prevent an information overload while obtaining the relevant information for the company, for the project teams, and for every single employee to achieve the goals and be successful in the digital economy?
This blog post describes how we need to change the way we plan for business and include information management as a key element in our thinking.
Changing today's thinking
Most of us come from a background of planning ACTIVITIES for managing a business or a project. We are used to create plans for development, marketing, sales, training etc. and those plans focus in general on what has to be done.
In today's digital world, the results of almost every activity or plan is already being tracked with data and digital documents of different kinds (text documents, tables, presentations, videos, etc.) but the management of information can hardly be found in today's thinking. We are capable of creating activity plans but we are not used to create the corresponding Information Maps.
Creating an Information Map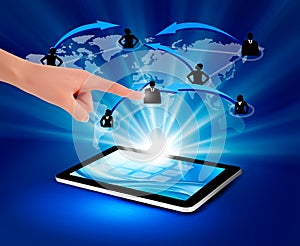 © Photographer: Almoond | Agency: Dreamstime.com
An Information Map describes the digital information created during a business phase or project and shows how the results of the individual steps and the overall plan can be expressed in terms of data. As an example, the Information Map for a marketing campaign includes at least (as pure data) the planned key success indicators and in addition it also includes the documents, which will be created and shared with a specific audience including the proper structure of these documents.
What happens today in projects without an Information Map, where creation and distribution of information is not planned in advance? People focus on diverse goals, spend much time accessing the information, use older versions of documents, create documents in formats that others can't properly use, or simply don't create the necessary information to get the project in the right direction. Without Information Maps, business projects often take longer, cost more and may not generate the expected results.

In general, the effort of creating an Information Map for a business or project is less than the effort of solving all the problems generated due to the lack of proper information management planning.
Creating value through information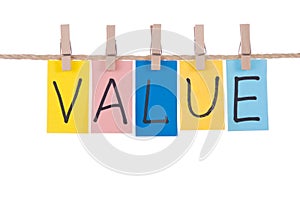 © Photographer: Revensis | Agency: Dreamstime.com
On a higher perspective, the Information Map of a company determines the basic information needed to run the business successfully. In the past, the value of a company may have been related to its machines, products or channels, but as of today the entire value of a company can be purely related to the information it is able to obtain, store and manage.
The recent Linkedin acquisition clearly shows how much value the information of Linkedin had for Microsoft and also how dangerous it would have been that this information would have gone to one of the key competitors.
Gartner also looked at this topic and created a report on how to Measure the Value of your Information Assets showing a some possible methods. So, how much do we really value our information?
Proper information management creates value for customers, providers and for your own company building the basis for new business models. Knowing the customer's intentions to buy is a powerful information which can be sold to advertisers and providers. Google with its search engine was definitely one of the first companies that exploited this value extremely well but many others have followed this path. If we look at the CBInsights list of start-up companies valued over 1 Billion USD (the so called "Unicorns") we will find that many of them are either valued by their information or by their capability to connect those that want to buy (on one side) with those that have the right product or service (on the other side).
Using Information Maps in your business
If you think that Information Management should play a stronger role in your daily business, the following questions may help you to start working on this topic:

Which information makes my company more valuable?

Which information should my company obtain, save and use?

Which information would give my company a competitive advantage?

Which information does my company have and how this information needs to be further used for the benefit of the customers and investors?

How much would my company be worth, if we could just sell the information we have?

How should we improve the management of the security and privacy of our information?

Who should be responsible for improving the management of the critical company information?

How should we train project managers in proper information management for their projects?
In case you would like to extend your information management capabilities and are looking for the right business application to manage this information in the digital economy, feel free to contact us at info@calvisystems.com.
Best wishes and regards,
Osvaldo Ostermann
Director Research & Development
Calvi Systems SL - c/ Tramontana 39-3C - 28223 Pozuelo de Alarcón (Madrid) - Spain
www.exxpertapps.com - www.calvisystems.com - Tel. +34 91 512 3344 - osvaldo.ostermann@calvisystems.com
Related Articles about "Success in the Digital Economy"
Calvi Systems is a software and consultancy company. We help customers achieve competitive advantage in the Digital Economy through a Next Generation Enterprise Application (ExxpertApps) and consultancy services.
Copyright

© 2016 Calvi Systems SL, All rights reserved.
You are receiving this email as a contact of Osvaldo Ostermann.
---
---
Leave a Comment